Have you ever wondered who decided to implement safety windows on vehicles?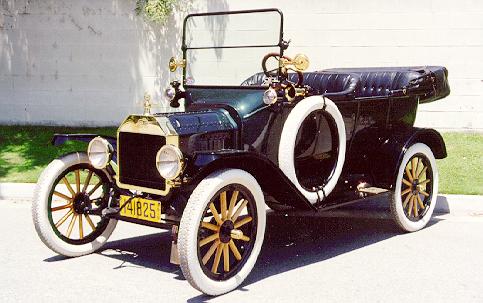 1927 Ford Model T, with its fold-down windshield
Fun Fact: When people in the early 1900's had dirty windshields, they would just fold them down, since there were no windshield wipers.
Well in 1903 a French scientist named Edouard Benedictus accidentally tipped over his glass beaker, but instead of shattering, it cracked but managed to stay together. He discovered that it was filled with cellulose nitrate. He decided to create a safety auto glass and branded it "Triplex".
It was not however, used in automobiles (yet), because of its cost.
What was used, was normal flat glass, such as the ones that comprise the windows in a house. This was dangerous because when accidents happened, the glass would break into shards and cause more harm than good.
Later on during WWI, the shatterproof safety glass was used for gas mask lenses.
About a decade later in 1927, automakers decided to use it on cars.
In 1928, a company named Pittsburgh Plate Glass (PPG) made their own safety glass named "Duplate", which we still use today!
Once their designs and the designs of others improved, automakers began to implement
the safety glass on all vehicles around 1966.
Edouard Benedictus
More than just windshields
This applies to windshields, but what about the door glass, or vent/quarter glass?
In the 1930's, manufacturers started using tempered glass for the side windows. It is created by excessive heat, and then immediate cooling. The purpose of this procedure is that its tensile strength is increased, and becomes approximately 5-10 times stronger than standard flat glass. The main objective was not just to increase the strength of the tempered glass to withstand daily abuse, but an equally large benefit was the way in which it breaks, shattering into hundreds-to-thousands of blunt pieces each about the size of a pea. This prevents injury and allows the glass to be broken safely in case of an emergency.
So if you are ever driving and something hits one of your windows and it stays in tact, know you are kept safe by these advances in technology over the past 100 years.
Sources:
– Neiger, Christopher.  "How Automotive Glass Works"  16 July 2009.  HowStuffWorks.com. <http://auto.howstuffworks.com/car-driving-safety/safety-regulatory-devices/auto-glass.htm>  21 August 2014.
Photos:
http://www.musclecarclub.com/other-cars/classic/ford-model-t/ford-model-t.shtml
http://www.innovate-design.com/news/194/